Le Gouffre de Proumeyssac
Crystal Cathedral - Cathedral of Light
Proumeyssac is the largest managed cave system in Périgord today.
The Gouffre de Proumeyssac, named the Crystal Cathedral for its immense underground domed chasm containing a multitude of concretions, has been transformed into a Cathedral of Light. It is the first underground site in France to be illuminated using 3D mapping technology. This technique was first used in just one part, but it was such a success with the public, it is now throughout the Crystal Cathedral.
A tunnel leads you easily to this vast underground vault, its walls decorated with a multitude of exceptionally thick crystallizations.
There is also an option to visit by descent in a basket, just as explorers did in the last century giving an original and extraordinary way to experience the Gouffre.(11 people max).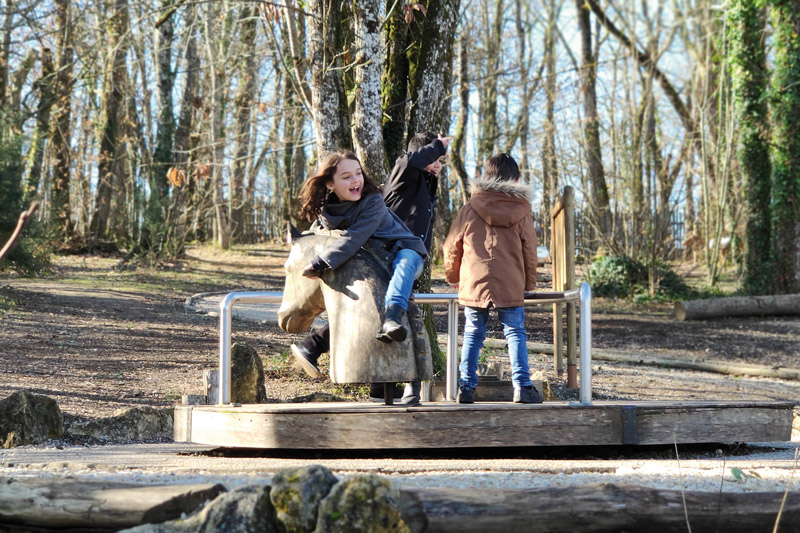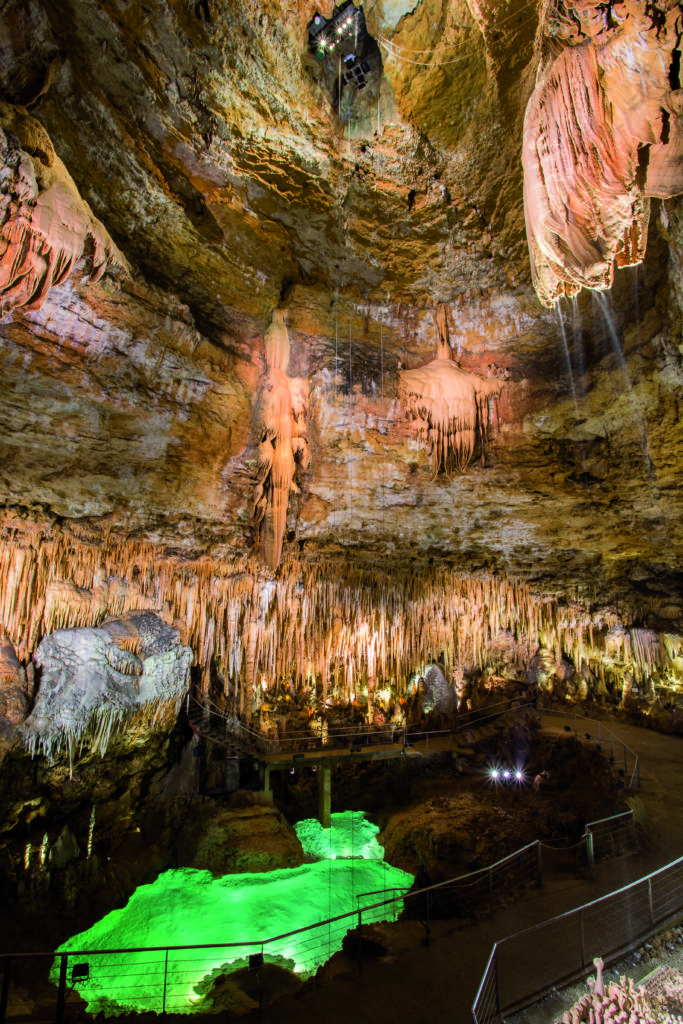 > THE TRADITIONAL TOUR
A tunnel leads you easily to this vast underground vault, its walls decorated with a multitude of exceptionally thick crystallizations.
Light shows and music complementing the originality of the site, provide a background for the 45-minute tour given by experienced guides, leaving you with unforgettable memories.
> THE DESCENT BY BASKET
Before the access tunnel was built, visitors were lowered into the caves 3 at a time in a horse-powered basket.
This lowering system was recently brought back into service. It now allows – those who want to – to have an unusual tour, just like at the turn of the century. Thrills guaranteed! (max 11 people at a time)
> THE EDUCATIONAL FUN PARK
The park specially designed for our visitors has been improved with a new educational fun area and a museographical area. A series of fun stops allow the entire family to have geological experiences, go back in time, or learn about speleology, in a special games area.
> THE MUSEOGRAPHICAL AREA
The goal of the museum is to immerse the visitor in an underground world, using cave decorations.
It takes the visitor back in time, from the 18th century legends of the Proumeyssac caves, to the story of their discovery, their opening up to tours, and right up to our own day…
Nouveauté 2021 : 3D mapping technology and the mineral river.
The mineral river : Young and old will be able to relive the adventure of gold diggers with our new creation : the mineral river. Leave with your treasure !
On your bike for an unforgettable eco-visit : each visitor has the possibility to produce a proportion of the energy required for his visit
A fun educational park and the museum area
Fun geology lessons with Professeur « Géopole » : Easter holidays (Sunday to Friday at 15h, 16h, and 17h) – From July 11th to August 27th 2021 (Sunday to Friday at 14h30, 15h30, 16h30 and 17h30)
– Autumn half-term holiday
IMPORTANT! During busy periods (July / August), reservations are strongly recommended.
Free reservation on 05 53 07 85 85 or by internet: www.gouffre-proumeyssac.com
Open all year except January – fast food from 1/04 to 15/09.
February, November, December: 2 p.m. to 5 p.m.
March, September 16 to 30, October: 9:30 a.m. to 12 p.m. 2 p.m. to 5:30 p.m.
April, May, June, September 1 to 15: 9:30 a.m. to 6 p.m.
July, August: 9 a.m. to 7 p.m.
Adults (from 18 years old): €12.90
Children (4 to 11 years old): €9.50
Teenagers (from 12 to 17 years old): €10.90
Students (on presentation of the card): €10.90
PMR Children: €7.90 (from 4 years old and under 18 years old)
Disabled adults: €10.90 (18 years and over)

Visit with basket descent (adults): € 21.90
Visit with basket descent (children – 16 years old): € 16.30
Basket package 11 people: 175 €