La Roque Saint-Christophe
Halfway between Eyzies and Montignac-Lascaux, in the Vézère Valley, stands the tall cliff of Roque St Christophe.
This immense wall of limestone one kilometre long and 80 metres high, is dotted with a hundred caves and long lofty terraces.

These natural caves were occupied by man in prehistoric times then modified to become a fortress and a city in the Middle Ages.
The tour of Roque St Christophe gives you an accurate idea of the lifestyle of our troglodyte ancestors throughout the millennia.

A jewel of troglodyte architecture
Here is where history takes root, in the heart of the rock reflected in the waters of the Vézère before reaching to the sky, where the human adventure began in Périgord 55,000 years ago. The many archeological remains found in these places testify to a massive occupation, from the mid-Paleolithic, through the Neolothic, the bronze age, iron age, Gallo-Roman times, the Middle Ages, right up to the start of the Renaissance.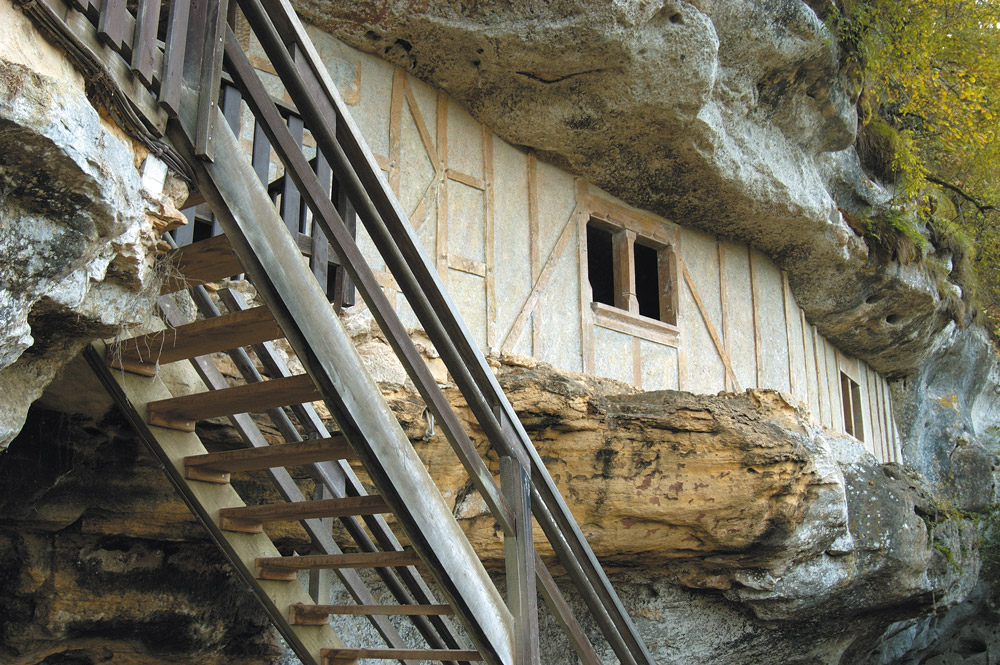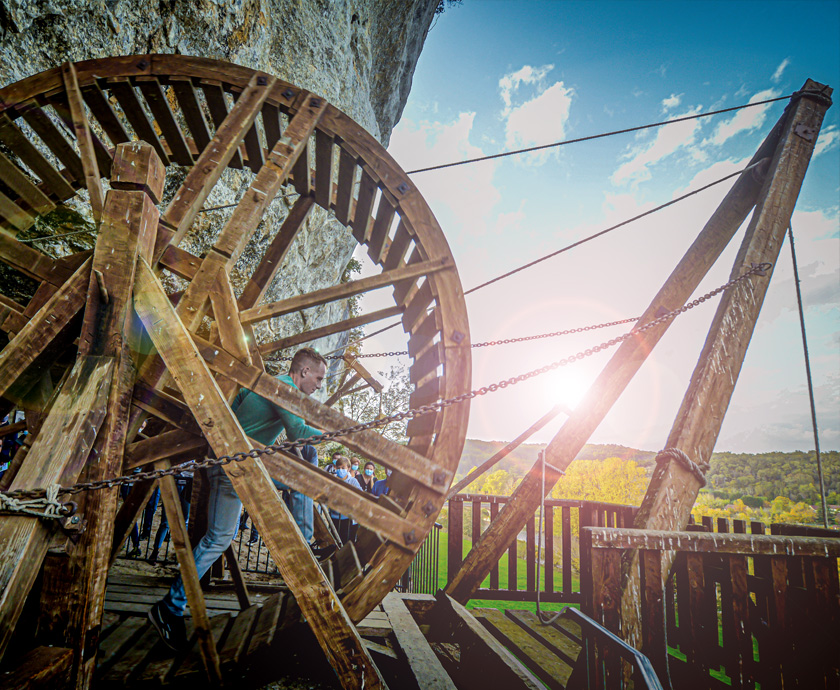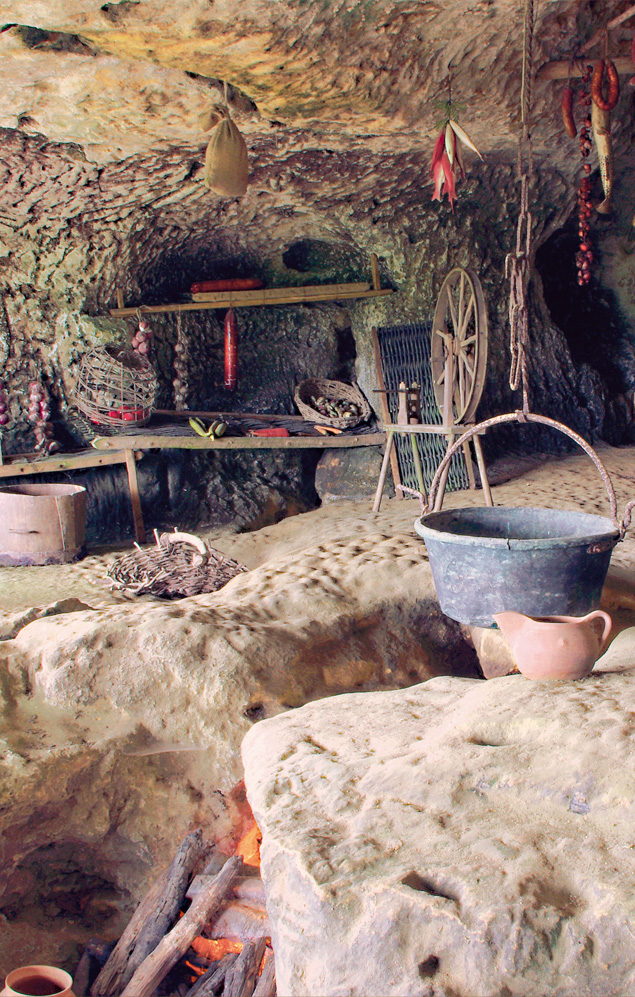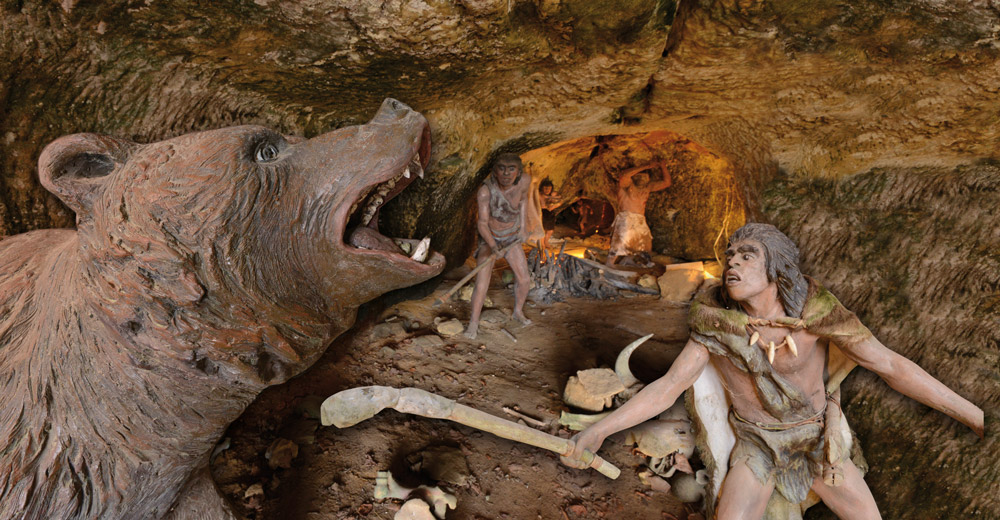 > Self-guided walks :
Self-guided walks let you move through the site at your own pace, with a tour booklet.
> Guided tours at set times :
The guided tour covers the various remarkable points in greater depth. From April to the end of September. Contact us for tour times, no booking required.
> Guided tour + Demonstration of medieval hoisting machines :
Roque-Saint-Christophe has many reconstructions of civil engineering machines.
Try your hand at operating them. See our events schedule.
Activities at no extra cost: guided tours with demonstration of medieval lifting gear:
• Easter holidays: 10:15 am and 11:15 am every day except Saturday.
• WE Ascension and Pentecost: 10:15 am and 11:15 am.
• Summer holidays during the months of July and August: 10:15 am, 11:15 am and 12:15 pm every day except Saturday.
• Heritage Days: 10:45 am, 2:45 pm and 3:45 pm.
• All Saints holidays: 11:15 am and 3:15 pm every day except Saturday.
Outside these hours, the site is accessible for free and guided tours depending on the season at fixed times (contact us).
Children's tour guide offered to visitors aged 5 to 13 while stocks last
Viewing area of a virtual reality film evoking the cliff and its medieval village.
Open all year round every day for unguided tours
January: 10 a.m. to 5 p.m.
February, March and October to November 11: 10 a.m. – 6 p.m.
April, May, and from June 01 to July 09: 10 a.m. – 6.30 p.m.
From July 10 to August 26: 9:30 am – 7:30 pm
From August 27 to November 11: 10 a.m. – 6.30 p.m.
From November 12 to the end of the Christmas holidays: 10 a.m. – 5:30 p.m.
Last admission 45 minutes before closing
In season commented visit at a fixed time
Bookstore / Boutique open year-round – Snack Bar open from April to September
Low season (from October 1 to March 31):
Adults: € 9.50
Children (5 to 13 years old): € 5.00
Students (under 25, with card): € 8,00
High season (from April 1 to September 30):
Adults: € 10,50
Children (5 to 13 years old): € 5.00
Students (under 25, with card): € 8,50