Les Jardins de Marqueyssac
The Belvedere of the Dordogne
The most beautiful panoramas of Périgord
Château de Marqueyssac park is one of the most beautiful successes in the history of French gardens.
Designed for strolling through, perched on high limestone cliffs overlooking the Dordogne Valley it offers the most beautiful panorama in Périgord.
South-facing, sheltered from the prevailing winds and benefiting from the heat accumulated by the rock in even the faintest sunshine, the Cliff Walk at the Marqueyssac Gardens is very popular right through the winter.
A classified site, Marqueyssac's romantic and picturesque gardens offer more than six kilometres of sheltered walks, bordered by 150,000 hundred-year-old hedges trimmed by hand and enhanced by scenic lookouts, rockeries, watercourses and open-air theatres. The Dordogne scenic lookout 130 metres above the river gives an exceptional view of the entire valley, its châteaux and the most beautiful villages in France.
The park is arranged for self-guided walks. Information boards explain the history of the valley and its fauna and flora. Guided tours (in French and English) are also available as an option at no extra charge between April and September.
Playgrounds, swings, seesaws and play sheds – Woodturning workshops in high season – Aviary – Shop/Bookstore
Tearoom and restaurant in the château and on the panoramic terrace from April to November.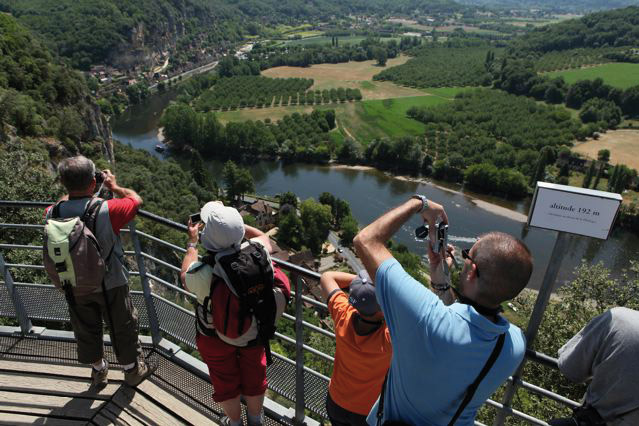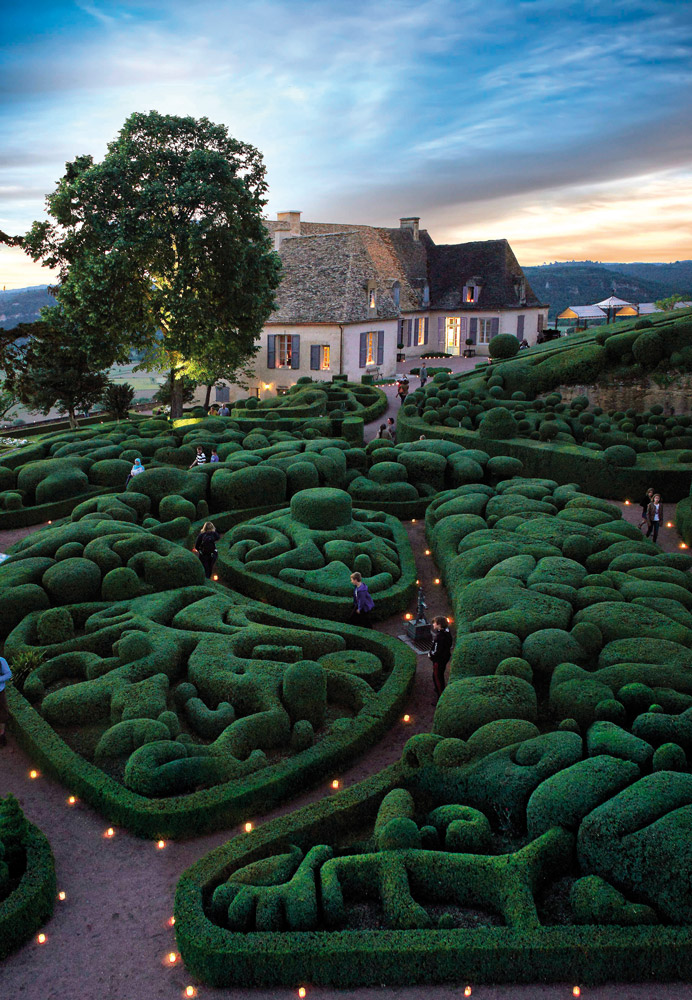 > SELF-GUIDED WALKS
The park is dotted with comprehensive information boards to help you fully enjoy your park visit. The attractively illustrated messages explain the flora, fauna, geography and history of the Dordogne Valley.
> GUIDED TOURS APRIL TO SEPTEMBER
In addition of self-guided walks, guided tours are also available outside the Château that give you a good basis for understanding the Marqueyssac site.

> DOWNLOAD THE APPLICATION "Les jardins de Marqueyssac" !
With your smartphone or tablet you can stage the walks for a fun and original discovery of the gardens and views: augmented reality, geolocation, mini-games and factsheets.
The wood turner shop Open from April to All Saints' Day
Via Ferrata from April 16 to All Saints according to schedule, consult us : acrobatic cliff course of 200 meters long
Meeting in gardens sunday, June 6, 2021 : Entertainment for kids (Art & crafts workshop "Curious of nature"), Via Ferrata, exhibition of fragile and short-lived works et Demonstrations of boxwood pruning
Art & crafts workshop "Curious of nature" : Easter holidays and all saints holiday, public holiday in may, every day in July and august
Marqueyssac 's Candlelight Night : saturday 5 june and every Thursday evening, in july and august, from 7 pm to midnight. Book and buy your ticket online
A day with la Ligue de Protection des Oiseaux : the discovery of garden birds and nocturnal raptors-feeders & nesting boxes workshops, conferences with the LPO le 31 october
Beginner's rock climbing (Reserved for children 6 years of age and older) : every morning in July and august (except saturday)
the skeleton of the Allosaurus KAN is on display in the Nature Pavilion!
Two game areas with swings and huts
Game booklet for children 7 and up: free.
Open every day, all year round
February, March and Oct. to Nov. 14: 10 a.m. – 6 p.m.
April, May, June, Sep: 10 a.m. – 7 p.m.
July and August: 9 a.m. – 8 p.m. (Candlelight evenings from 7 p.m. to midnight, every Thursday evening)
From Nov. 15 to end of January: 2 p.m. – 5 p.m.
Last admission 1 hour before closing.
Without reservation.