Périgord with our prepaid pass at a reduced price!
With just one click, this electronic Pass allows you to save 20% and gives you access until November 15 of the current year to the most visited sites in Périgord.

* Excluding temporary exhibitions, specific and evening events.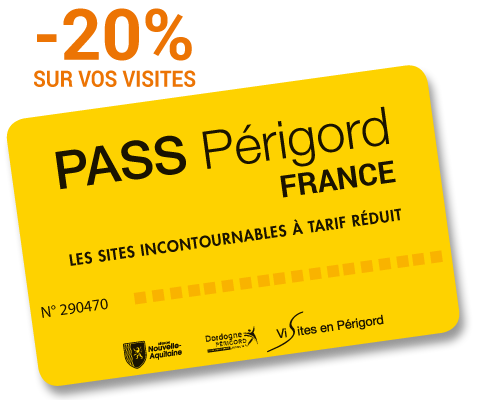 60 € visit at the price of 48 €
120 € visit at the price of 96 €
Calculate the savings made in the situation below depending on the sites chosen!
THE BENEFITS OF THE PASS!
DISCOVER 11 Périgord sites known around the world.
EXPLORE all the richness and complementarity of Périgord heritage
SAVE 20% on the Visit sites in Périgord
VISIT MORE and SPEND LESS, 120 € for a visit at the price of 96 € or 60 € for a visit at the price of 48 €
ORGANIZE YOUR STAY by prepaying your pass online
GIVE your family the must-see sites of Périgord
REPEAT your visits, until your credit runs out
ENJOY the Pass until November 15th of the current year
Can the Pass be used for several people?
Yes, the pass will be charged according to the number of people.
What sites can I visit with this Pass?
This pass is accessible for tourist visits by the association, namely:
Les Jardins de Marqueyssac
La Grotte de Villars
Le Château de Castelnaud
Le Château de Hautefort
Parc Le Bournat
Les Grottes du Roc de Cazelle

Les Gabares Norbert
La Roque Saint-Christophe
La Maison Forte de Reignac
Le Gouffre de Proumeyssac
Les Grottes de Maxange
The Discovery Pass or the Advantage Pass are debited from the price of reduced entry to the site visited until the credit is exhausted.
What if there is a balance?
You benefit from the reduced prices closest to the Pass balance, which is above is to be paid by any means of payment at your convenience.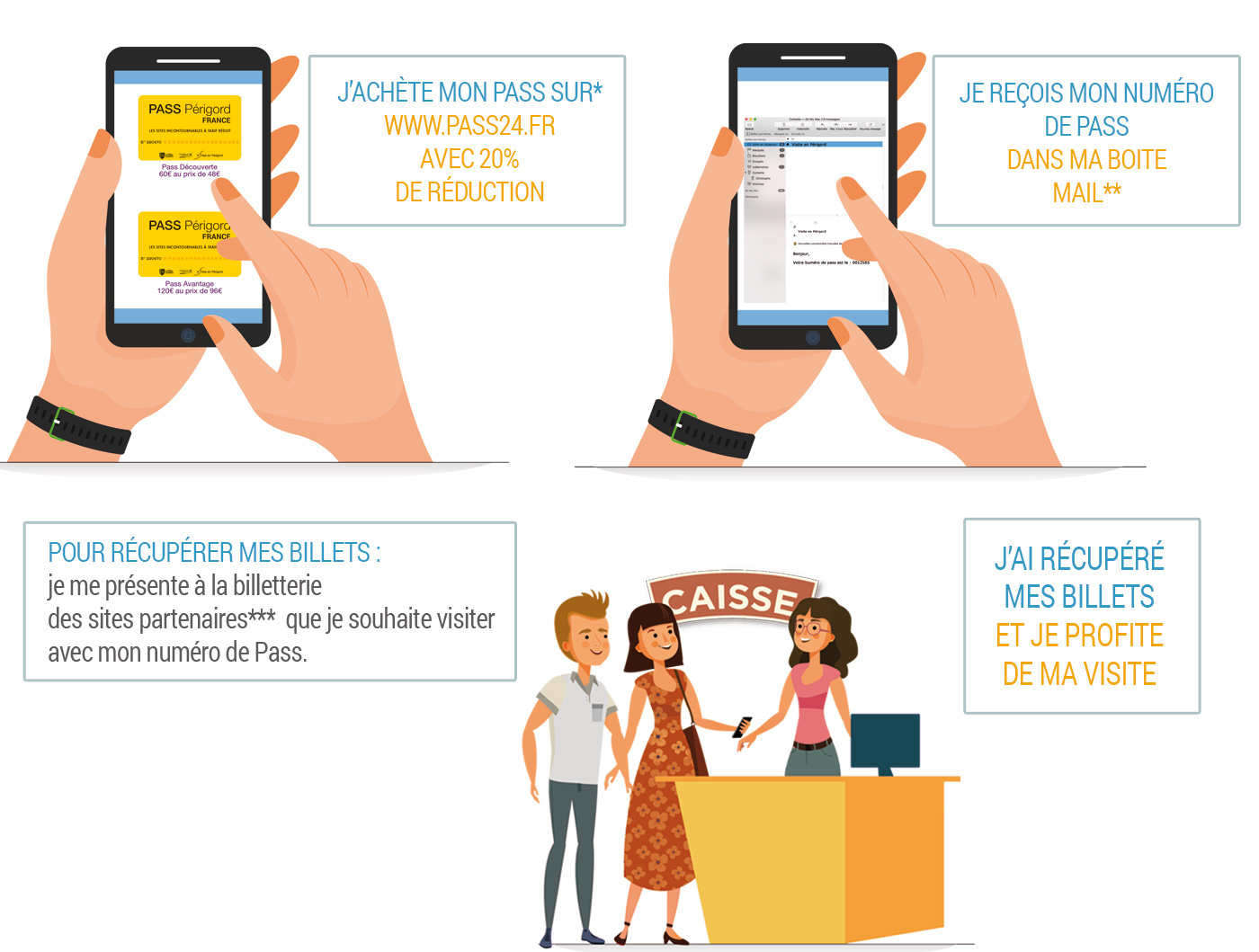 * Once the pass is purchased, it can be used the next day –
** Remember to check your spam –
*** PARTNER SITES: Le Château de Hautefort – La Roque Saint-Christophe – La Maison Forte de Reignac – Les Gabares Norbert – La Grotte de Villars – Le Gouffre de Proumeyssac – Parc Le Bournat – Le Château de Castelnaud – Les Jardins de Marqueyssac – The Caves of Roc de Cazelle – The Caves of Maxange